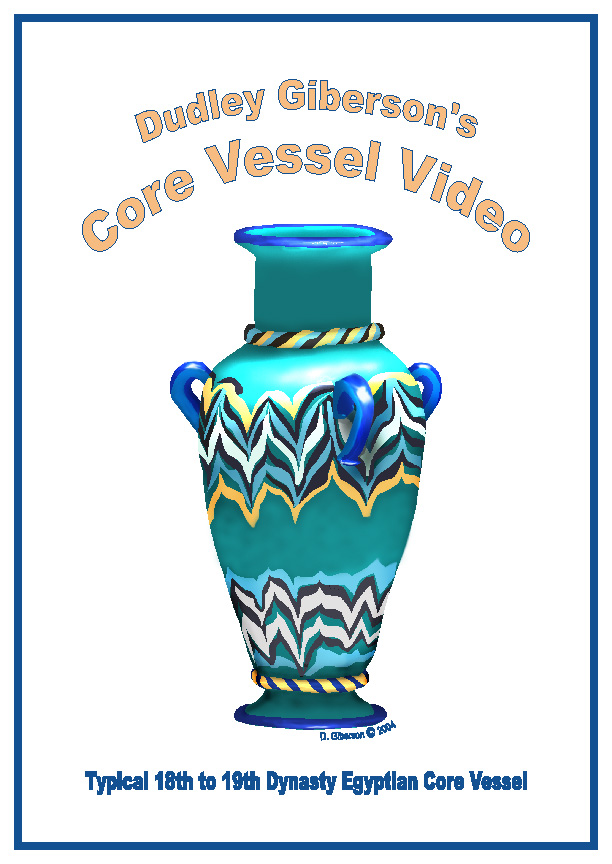 To Order: Phone 603-456-3569
or Fax 603-456-2138.
We accept MC or Visa.
Shipping via Priority Mail add $6.00.
Please include good postal address and phone number.
To download a copy of our order form
click here
.
Or to visit our price list
click here
.
Giberson's video documents thirteen years of archaeological research and experimentation in ancient glass core vessel technology. It is a great teaching video for anyone interested in understanding the complexities and beautiful mysteries of ancient glass.
Dudley's work begins in 1991 after a startling dream reveals an unusual ancient glass furnace
prototype. In response he builds this furnace idea and to his astonishment it works perfectly. Over time, by using this small vertical furnace, similar to the present day tandoor of India and Asia, he begins making hot glass. At first it was just beads, then core vessels. The video shows many of Dudley's unique solutions to ancient glass problems. The video stays within XVIII-XIX Dynasty Egyptian glass technology, 1450-1200 BC.
Seeing is believing when you realize what simple ideas ancient glassmaking sprang from. Here fritted glass is used to manufacture core vessels. Great footage of fancy cane lip wraps, trailings, and feathering scenes never before represented in video format. Every element of Dudley's techniques are hypothesized from evidence found in the archaeological record. Piece by piece the mystery unfolds. Many illustrations clearly resolve ideas that have long been misunderstood. The video images and clear audio dialog explain the many facets of this long lost art.
Reel time: 35 minutes. Price: $19.95
Dudley Giberson is the author of A Glassblower's Companion, a popular treatise on building your own studio glassmaking equipment.