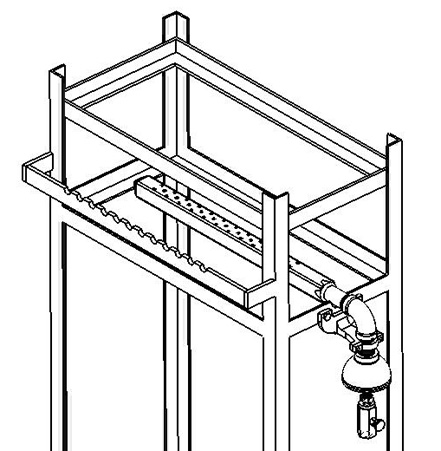 Here is the frame with the burner shown in place. If you wish to build one of these yourself please refer to Dudley's book, A Glassblower's Companion, figure 21-1 and figure 21-2, pp 105 & 106. I recommend using square tubing (1" x 1" x 1/8" wall thickness. Hole pattern same as in book.)
Suggested Orifice Chart
Natural Gas
6" WC
#48 Orifice
Low Pressure
Propane
8"­11" WC
#54 Orifice
High Pressure
Propane
1-2 psi
You will not need much pressure
Use needle valve to modulate gas flow
#65 Orifice
The Complete Pipe Warmer Ribbon burner, Venturi, and Needle Valve

$249.50




(a savings of $13.50 over items purchased separately).
---
When you purchase our ribbon burner we enclose complete dimensioned sketches of the project.
---
The kit includes one high quality needle valve adapted with a reducer coupling to the Ransome Bell Venturi
This is our standard Needle Valve that regularly sells for $20.00
The needle valve allows for fine tuning of the flame. It is recommended for all gasses, but is an absolute must for high pressure propane.
---
And for those who want to build their burner from scratch, we sell the Bell venturi by itself for the reasonable price of $87.50